Re:Launch is here! We are returning to in-person services on March 7!
If you're not comfortable meeting in-person, don't worry, online services will continue as well.
We want your experience on Sunday morning to be as safe and comfortable as possible. You can help us make sure that happens by taking this quick 15-second survey.
We wanted to change the way people think about God–we call that our "mission." So, we figured the best way to do that was to start a church for people who don't go to church–we call that our "vision."

On January 5th of 2020, we had the chance to begin doing just that. It was cool. The opening weeks of this new church went better than we could have imagined. We were in awe as we watched hundreds of people begin to find a home in this faith community.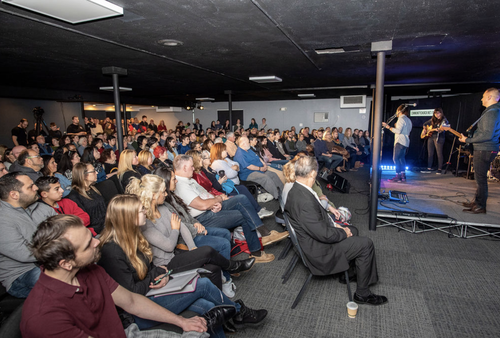 After having just ten services in-person, we made the move online. Though our methods have changed, our mission has not. In the months since, we've hosted online programs, launched virtual Community Groups, and had the chance to partner with some incredible members of the community to serve those who have been most severely affected by the pandemic. We've also had the chance to refine our approach and continue to dream about what starting a church could look like in a post-COVID world.

Believe it or not, some pretty awesome stuff has happened during this pretty difficult season.
We tried to do it again... but had to wait.
We're planning to re-launch, with a new team, in a new location (same building, different room). In September, our team began training and our building began transforming. Those who were with us on the first Launch Day probably remember that we met in the basement of our building. It worked, but it was tight. In an effort to create a more socially distant environment, our team is preparing our larger upstairs room to be our new meeting place.

Our original plan was to Re:Launch Community Church's in-person with (socially distant) services on Sunday, January 3rd, 2021. As of mid-December, those plans had to change. The new plan was to enter into a temporary holding pattern. We waited until after the holidays and planned to release an update in the first week of February. In the meantime, we continued to train our team, get our building ready, and run Community Groups.
We're a church for people who don't go to church—where people can belong, even if they don't believe. We're big on being real. We bring our questions, struggles, hang-ups, doubts, disappointments, and failures. We work hard and we play hard. We value having fun (we think that's important), and we value growth (also important). More importantly, we want to help—to help people find purpose, live the lives they were made to live, and navigate the difficulties, uncertainties, and curve balls that life throws at us. This is Community.